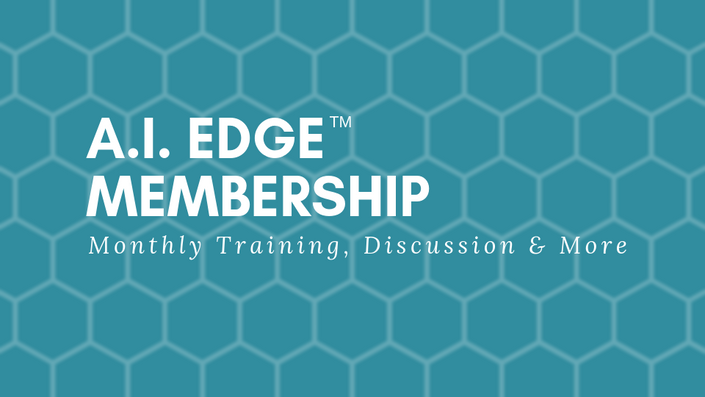 A.I. Career Advisor™ Membership
Get Weekly Training & Live Support to Help You Get a Job in Artificial Intelligence, Data Science & Machine Learning
Demand for AI Jobs is Exploding!

Get Training & Live Weekly Support to Help You Get a Job in Artificial Intelligence, Data Science & Machine Learning
Build a Career in Artificial Intelligence with a Live Advisor
Whether you are a beginner developer or experienced engineer, your AI Advisor program will help you build your skills, make your job search easier, and keep you up-to-date on the job market in Artificial Intelligence and Data Science.
"Haven't been job searching in years and felt overwhelmed. After attending a few sessions of AI Advisor, I got some good tips on how polish up my resume and prepare for my programming interviews."
- Mark C., Software Engineer
AI Career Advisor Program Benefits
Faster AI Job Search
Discover how to streamline your job search so you can spend more time learning, working, or doing what you love
Efficient AI Skill Building
Get help on conquering information overload so you can focus on what matters most
Effective AI Interviewing
Learn how to get better at interviewing and start taking control of your career
What You'll Get...
Your AI Advisor Membership includes:
Weekly Training to help you get a job in AI.

Discover the skills & technologies you need to learn
Search jobs more efficiently and effectively
Identify why your resume is not working
Succeed at programming and technical interviews
Negotiate higher salary, signing bonuses, and equity with confidence

Live Q & A to help you overcome challenges.

Tired or frustrated with your job search?
Having trouble getting an interview or securing an offer?
Want to get a job at your favorite company but you don't know how?
You'll get a chance to ask your advisor anything and get an immediate response live

24/7 Access to Recordings

If you can't attend live, you can watch sessions anytime on any device.

Active community and discussion

Share your insights and help out others

No Risk - Cancel Anytime, 30 Day Money Back Guarantee
"I was happy with my current company, but I wanted to stay aware of new job opportunities. The weekly AI Advisor sessions really helped me reduce the noise and focus on the most relevant opportunities."
- Mike E., Java Developer
Your Instructor
Joe Papa is Chief Mentor and Founder of Mentorship AI. He's helped hundreds of engineers and developers find jobs over the past 20 years. He holds an MSEE degree from Rutgers University and has over 20 years experience as an embedded Software Engineer developing algorithms in Digital Signal Processing, Wireless Communications, Machine Learning, and Artificial Intelligence. As Career Manager and Technical Lead, Joe has helped engineers and scientists develop their careers and provides insights from both the applicant side and hiring manager perspective of the job search process.
Frequently Asked Questions
What is the AI Advisor Program?
When you join AI Advisor, you will receive weekly online training and Live Q&A to help you further your career in AI. Topics vary and you can ask questions about any topic. Struggling with interviews? Get some help. Have no experience? Learn what courses to take. Just want to stay in touch with the hiring trends and company projects? Tune in for an hour each week or watch the recorded sessions when you have time.
Who's this program for?
Anyone looking for a career in Artificial Intelligence, Machine Learning, or Data Science. Most of our members are developers, engineers, or research scientists currently working in or seeking jobs related to AI. Typically our members have a B.S., M.S. or PhD. in a science or engineering related field and come from all experience levels including Interns, Entry Level, Junior, Mid, Senior, Chief, Lead, & Managers. We mainly discuss techniques used to get jobs in the United States by U.S. residents.
How do I access the program?
Click the Enroll Now button and complete the checkout. You will be brought to the members only area which will provide instructions on how to access the training and register for the live Q&A.
Will there be enough time for my question?
Every week, we will host a live Q&A session. You will have a chance to ask a question related to your career in AI. It can be about anything not just the topic of the week. If we cannot address it live, we will attempt to answer it offline. You can also submit your question privately if desired. Our goal is to make sure that you feel supported during your job search and throughout your career.
What topics do you cover?
We cover all aspects of the Job Search process and sometimes technical subjects related to Artificial Intelligence, Machine Learning, and Data Science. This may include Job Search, Resumes, Interviewing, and Negotiating for AI specific jobs with companies like Facebook, Amazon, Google, Microsoft, Tesla and other top tech companies. We might also talk about technical topics like Deep Learning and NLP, or discuss tools like Tensorflow and Amazon Sagemaker. Our goal is to keep you aware of the current hiring trends and help you build skills needed for a successful career in AI.
"AI Advisor helped me use my current programming skills and experience to prepare my resume for AI jobs without any AI experience."
- Sean M., Research Scientist
No Risk - 30 Day Money Back Guarantee
Try it for no risk. Cancel anytime. If you attend two sessions in your first month and you are unhappy for any reason, we'll give you a refund for your first month.
Don't miss the chance to take your AI career to the next level, click the button to join the program now.